A Gallery of San Clemente Goats
San Clemente Island goats survived as feral goats on San Clemente Island for over 200 years. While this led to inbreeding, the harsh environment weeded any weak genetic combinations. This survival of the fittest strengthened the breed. San Clemente goats are more resilient to disease than many other goat breeds. This also led to a variety of colors in San Clemente goats.
Below is an example of the classic color combination for a San Clemente Island female or doe. The International Dairy goat Association accepts this combination. It consists of a tan or amber colored under-belly, black shoulders and tan or brown hindquarters. Does may or may not have a small beard.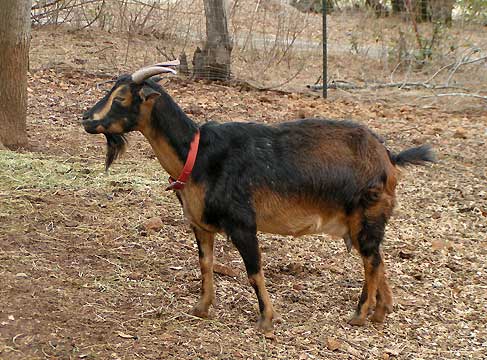 The standard coloration for an adult male or buck may be black shoulders, silver hindquarters and light colored under-belly. The male goat has a more predominant beard. Bucks are larger than the does.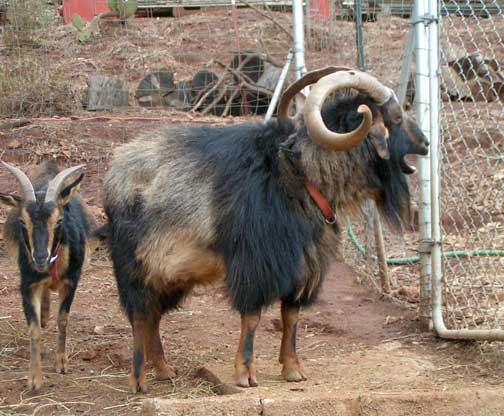 Bucks have extensive horns. They can span up to five feet from tip to tip.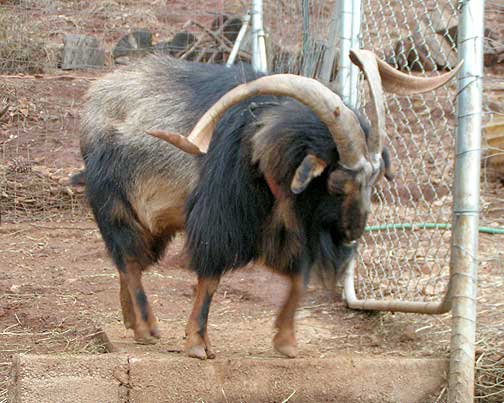 Kids can be born with either dun colored or with specific dark markings.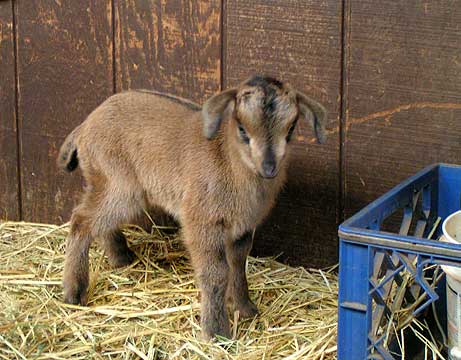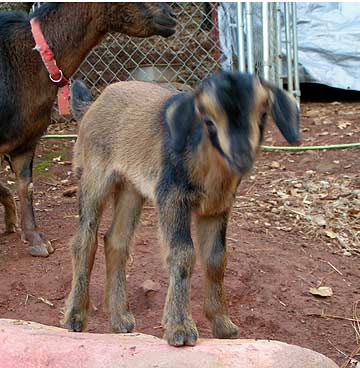 During the rescue mission to remove the goats from the Channel Islands off of the coast of California, a number of white a goats were discovered in the herds. At first these goats were not considered having good markings and goats with white markings could not be registered. Today there are a number of breeders who breed specifically for the white color.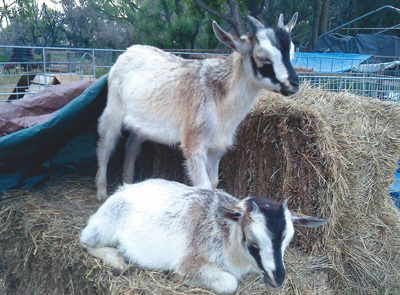 The government had classified the San Clemente Island goats as vermin, and the rescuers were not allowed to obtain any male goats. But, as nature will have its way, a few does that were rescued were pregnant with male kids. Because of those few male kids, the breed was able to propagate.
Today the San Clemente Island goat is a registered breed. There are about 600 San Clemente Island goats in the world.
You may read more information on San Clemente Island goats at the official San Clemente Island goat website at: scigoats.org.
The San Clemente Island Goats at PsiKeep Ranch
Below are photos of the original female and male San Clemente Goats that were brought to the PsiKeep ranch.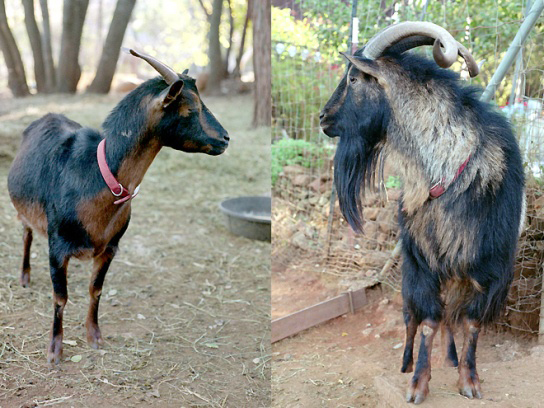 PsiKeep Ranch began breeding San Clemente goats in 2003 when the original pair was brought to the ranch. The goats in the above image are from two lines of Rivetti goats that were purchased from Mardi Rivetti.
In 2009 the ranch purchased a yearling male buck from Jerry Gauque. The yearling buck is from the Plimoth genetic line.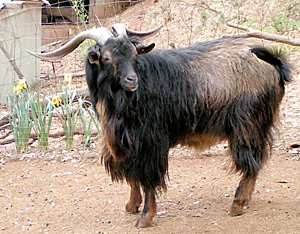 There are currently two small herds of San Clemente goats at PsiKeep Ranch. One herd is Rivetti/Rivetti and the other herd is Plimoth/Rivetti. What this means is that in the Rivetti/Rivetti herd both the buck and the doe are from two genetic lines of San Clemente goats bred for many years by Mardi Rivetti in Valencia California. In the other herd the buck from the Plimoth genetic line is bred with Rivetti does.
PsiKeep ranch is developing a breeding program specifically for SCI goats with solid red coloration.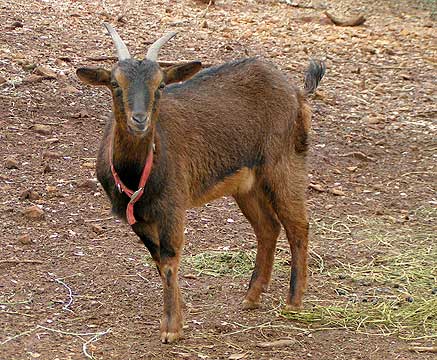 This year the kidding season began in in late December of 2013 and kids are currently available.